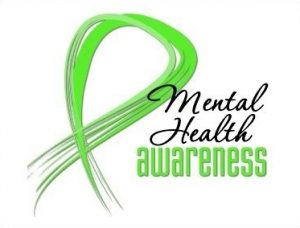 I've been a social worker for 22 years and this is the first time I am aware of May being Mental Health Awareness Month. I probably have known about it in the past, but I have recently been seeing lots of posts on social media about it. One of the pages I follow, posted about mental health awareness month and it looks like she is doing a daily challenge on keeping, maintaining, or improving one's mental health and wellness. Her facebook post started me thinking that maybe I can attempt to do a daily post about mental wellness. As she said, mental health awareness is not just about mental illness, it's about making sure we take care of our mental health and wellness. My challenge is to write about mental wellness daily, and to make sure that I take my own advice and practice what I write about.
Today, I want to talk about mental wellness and creativity. While I am a licensed independent clinical social worker and my job is doing therapy, these blog posts are in no way a replacement for actual therapy with a trained therapist. I am also not a fan of tele-therapy and believe that therapy should happen in person. These posts are more for how to deal with everyday stress and how to maintain good mental wellness.
How does creativity impact our mental wellness? For me, when I am creative, I am relaxed and calm. I feel accomplished, especially when I make something useful and beautiful. I love taking materials, like yarn, fabric, clay, etc and creating clothing, blankets, jewelry and other things. For me, making time to be creative slows me down and allows me to forget about things for a short time and focus on the task at hand.
As the month moves forward, I am hoping to write more about specific activities that help our mental wellness. I know that for me, pretty much any and all creative endeavors are calming. There are certainly ones that make me happier and calmer, mostly because I am better at them than others. I don't like to fail, but trying new things is good for me and others that have a hard time with a growth mindset. I'm hoping that these blog posts will help others with mental wellness and maybe looks at things in a different light.
Did you know that May was Mental health awareness month? What do you do to maintain or improve your mental health/wellness?
Namaste,
Amy